The Other Side of Yet: Finding Light in the Midst of Darkness (Hardcover)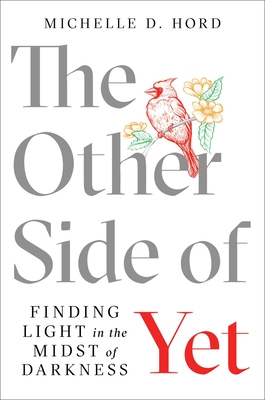 Description
---
A raw and powerful memoir about how resilience, hope, and defiant faith can lead to powerful transformation even in the midst of our darkest hours.

Media executive Michelle D. Hord has suffered loss at almost every major phase in her life; the most devastating being the murder of her beloved daughter at the hands of her ex-husband. Yet through it all, there was a voice inside her insisting that she must let the light shine through the holes in her heart. With evocative prose and spiritual insight, The Other Side of Yet offers a compassionate blueprint on how to harness your inner strength. She shares how, while we can't control the pain or trauma that alters life as we knew it before, we can always pivot to a yet and rebuild a new after.

The Other Side of Yet is about creating a life of purpose, passion, and possibility regardless of what is thrown at us. It highlights how we can face our hardships, yet also choose to keep fighting. A timeless and accessible book for anyone who has experienced grief or loss, it will give you the inspiration and tools you need to reclaim your story.
About the Author
---
Michelle D. Hord is a creative storyteller and media executive. A proud graduate of Howard University, she is the president of Hope Warrior, Inc., and former vice president of creative content and talent management at NBC Universal. Michelle has spent more than three decades in network news and entertainment. In a career that has spanned from television control rooms to corporate board rooms, she has consistently sought opportunities to inspire creativity in all its various forms. In 2018, she founded Gabrielle's Wings, Inc., a nonprofit organization dedicated to giving children of color in vulnerable communities the kind of experiences, access to programs, and exposure that she is unable to now give her late daughter, Gabrielle.
Praise For…
---
"Light can be found after loss…To Michelle, the tiny word yet has propelled her journey as a missionary to those who grieve." –Jesus Calling

"Michelle is one of those authentic souls able to lift others with her beautiful writing. My dear friend endured an unimaginable loss with grace, leaning on her faith. In the midst of whatever darkness you're going through The Other Side of Yet will guide you to the find the light." –Robin Roberts, ABC's Good Morning America

"If you need the courage to face tough times, the resilience to keep putting one foot in front of the other, and the unwavering faith that you will make it through the challenges that life lays at your feet, then read, The Other Side of Yet. Michelle's story and her hard-earned wisdom will be the light that gives you hope and leads you through the darkness to something far greater than you ever could have imagined."—Cheryl Richardson, bestselling author

"Michelle's heart-wrenching story and soulful writing offers inspiration and a road map to help us get to the other side. Tragedy is the worst part of living that few people survive. The Other Side of Yet offers us hope, resilience and joy. " –Barbara Corcoran, Founder of The Corcoran Group & Shark on ABC's Shark Tank

"This is a powerful story of love and loss and the light that shines through our brokenness. Michelle has stewarded her suffering with strength and grace and her story brings hope and healing to all who have walked through darkness." –Sheila Walsh, Co-host of Life Today, author of Holding On When you Want to Let Go




"Hord doesn't pull punches or offer easy bromides, but instead confronts grief with grace and candor. Readers struggling with loss will find solace in Hord's courage and guidance." —Publishers Weekly

"A sensitive memoir on living and finding joy in life following personal loss. Readers needn't be Christian to find value in Hord's advice, but she weaves spirituality throughout the text, which will likely resonate most strongly with readers who share her faith." —Library Journal

"Hord lets us into her grief and provides a road map for leaning into the "yet"—the radical healing after loss that must occur as we seek to recover from unimaginable trials and tribulations." —Essence Magazine

"In writing that is contemplative, emotional, and spiritual, Hord looks forward, holding space for the infinite love that she has for her daughter while she envisions a future filled with light and continued healing." —shondaland

"I could not be more inspired by Michelle Hord's resilience in the face of such unimaginable loss. Her memoir, The Other Side of Yet, speaks directly to the power of post-traumatic growth. By bravely sharing what she learned through tragedy, Michelle will help so many others find strength and rediscover joy." –Sheryl Sandberg, COO of Meta and founder of Lean In and Option B