Peril (Hardcover)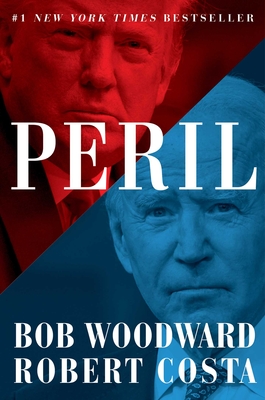 $30.00

Out Of Stock - Can Be Ordered For You. May take extra time.
Description
---
The transition from President Donald J. Trump to President Joseph R. Biden Jr. stands as one of the most dangerous periods in American history.

But as # 1 internationally bestselling author Bob Woodward and acclaimed reporter Robert Costa reveal for the first time, it was far more than just a domestic political crisis.

Woodward and Costa interviewed more than 200 people at the center of the turmoil, resulting in more than 6,000 pages of transcripts—and a spellbinding and definitive portrait of a nation on the brink.

This classic study of Washington takes readers deep inside the Trump White House, the Biden White House, the 2020 campaign, and the Pentagon and Congress, with vivid, eyewitness accounts of what really happened.

Peril is supplemented throughout with never-before-seen material from secret orders, transcripts of confidential calls, diaries, emails, meeting notes and other personal and government records, making for an unparalleled history.

It is also the first inside look at Biden's presidency as he faces the challenges of a lifetime: the continuing deadly pandemic and millions of Americans facing soul-crushing economic pain, all the while navigating a bitter and disabling partisan divide, a world rife with threats, and the hovering, dark shadow of the former president.

"We have much to do in this winter of peril," Biden declared at his inauguration, an event marked by a nerve-wracking security alert and the threat of domestic terrorism.

Peril is the extraordinary story of the end of one presidency and the beginning of another, and represents the culmination of Bob Woodward's news-making trilogy on the Trump presidency, along with Fear and Rage. And it is the beginning of a collaboration with fellow Washington Post reporter Robert Costa that will remind readers of Woodward's coverage, with Carl Bernstein, of President Richard M. Nixon's final days.
About the Author
---
Bob Woodward is an associate editor at The Washington Post, where he has worked for more than 50 years. He has shared in two Pulitzer Prizes, one for his Watergate coverage and the other for coverage of the 9/11 terrorist attacks. He has authored 21 bestselling books, 15 of which have been #1 New York Times bestsellers.

Robert Costa is the Chief Election and Campaign Correspondent for CBS News, where he has worked since 2022. He previously served as a national political reporter at The Washington Post and as moderator and managing editor of Washington Week on PBS. He holds a bachelor's degree from the University of Notre Dame and a master's degree from the University of Cambridge. He is from Bucks County, Pennsylvania.


Praise For…
---
"The thing that is so bracing and nerve-wracking and important about this new book is what it reveals about how much worse it was than we knew, how much closer we came to real disaster than we have known before now." — Rachel Maddow, MSNBC

"The book details how Mr. Trump's presidency essentially collapsed in his final months in office, particularly after his election loss and the start of his campaign to deny the results." — Michael S. Schmidt, The New York Times

"We know that the period between the election and the inauguration was a time of great domestic turmoil. And what Peril does is it shows that this was also a grave national security crisis." — Isaac Stanley-Becker, The Washington Post

"Explosive new details about former President Donald Trump's actions around last year's election and the January insurrection." — PBS

"Woodward and Costa got an exclusive transcript of the call. Pelosi has the same concerns that Milley does. The phone call is dramatic. It's blunt. And Pelosi wants Milley to reassure her that the nuclear weapons are safe." — Jamie Gangel, CNN

"Excerpts of the Woodward/Costa book in The Washington Post and CNN make the Trump administration's operations in January 2021 sound like a bewildering blend of King Lear, The Decline and Fall of The Roman Empire, Dr. Strangelove and Veep." — Olivier Knox, The Washington Post

"A cliffhanger . . . Like an installment of a deathless Marvel franchise, for all its spectacle Peril ends with a dismaying sense of prologue." – John Williams, The New York Times

"The clear theme of Peril is not a rehash or account of what transpired over the past year or so. It is a waving red flag designed to warn the electorate and chattering class that this story is far from over."—Mediaite

"The explosive new book....that rocked Washington and the world with its headlines...you've done it again."—George Stephanopolous, ABC

"An amazing, intense, and very troubling read . . . A book that is historical and also a caution - a warning about the future. . . It's a fantastic book."—Jake Tapper, CNN

"A Bob Woodward book is like a large Christmas tree with dozens and dozens and dozens of unique ornaments that you've never seen before, news media headlines immediately focused on the biggest and most important ornaments on that tree, and we all eagerly read those first news reports about a Bob Woodward book. But the reason to read the book, the reason to order this book tonight or get it at your bookstore tomorrow is to see how the whole story fits together and see all of those ornaments on the tree that the news media never gets to because there are just too many of them."—Lawrence O'Donnell, MSNBC

"Extraordinary new book . . . chalk full of scoops . . . iconic pieces of reporting . . . A collaboration we have been waiting for. It lives up to all of our hopes and expectations. . . It is stunning."—Nicolle Wallace, MSNBC

"Woodward and Costa make a powerful case that America has had a narrow escape. It leaves all Americans, in particular the Republican Party, with some thinking to do"—Justin Webb, The Times, UK