Live Life in Crescendo: Your Most Important Work Is Always Ahead of You (The Covey Habits Series) (Hardcover)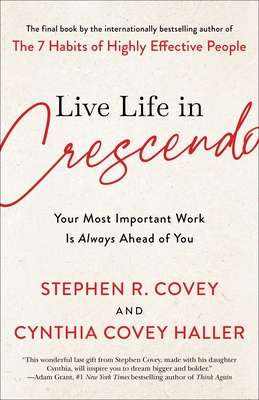 Description
---
The inspirational, encouraging final book from the legendary leadership expert Stephen R. Covey, internationally bestselling author of The 7 Habits of Highly Effective People.

Stephen R. Covey spent his long and storied career inspiring millions of individuals to make their lives more effective, compassionate, and meaningful. Near the end of his life, Covey felt there was a final component to his work: How to live your best life no matter your age? How to best respond to life-challenging experiences? How to approach the challenges and opportunities of middle to later life—like raising children, caring for your parents, leading and inspiring others, staying on top of your career, contributing to your community, and what follows next?

Live Life in Crescendo is Covey's answer to these questions, outlining his vision for those in the prime of life, whatever age you may be. Covey urges all to "live life in crescendo," continually growing in contribution, learning, and influence. In the same way that music builds on the previous notes, life too, builds on the past and unfolds in the future. This crescendo mentality urges you to use whatever you have—your time, talents, resources, gifts, passion, money, and influence—to enrich the lives of people around you, including your family, neighborhood, community, and the world.

Cowritten with his daughter, Cynthia Covey Haller, and published posthumously, Live Life in Crescendo is a life-changing and life-affirming book that befits the generosity and wisdom of the late Stephen R. Covey.
About the Author
---
Recognized as one of Time magazine's twenty-five most influential Americans, Stephen R. Covey (1932–2012) was an internationally respected leadership authority, family expert, teacher, organizational consultant, business leader, and author. His books have sold more than 40 million copies (print, digital, and audio) in more than fifty languages throughout the world and The 7 Habits of Highly Effective People was named the #1 Most Influential Business Book of the 20th Century. After receiving an MBA from Harvard University and a doctorate from Brigham Young University, he became the cofounder and vice chairman of FranklinCovey, the most trusted leadership company in the world.

Cynthia Covey Haller is an author, teacher, speaker, and an active participant in her community.
Praise For…
---
"There's another habit of highly effective people: they envision the future in an upward trajectory. This wonderful last gift from Stephen Covey, made with his daughter Cynthia, will inspire you to dream bigger and bolder."
—Adam Grant, #1 New York Times bestselling author of Think Again and host of the TED podcast WorkLife

"Stephen Covey certainly lived his life in crescendo and he constantly inspired others to do the same. He helped change the trajectory of my football career, and my life, when by happenstance we sat next to one another on a plane. At the end of that short flight, I was inspired and rejuvenated. I had been in the presence of greatness as he masterfully shared principles in this book which revealed the tremendous opportunities before me. I love that his legacy continues to shine through this book and the lives of his family."
—Steve Young, NFL Hall of Fame Quarterback and Chairman & Co-Founder, HGGC

"The dictum that I promote is 'Making money may be happiness but making other people happy is super happiness.' Simply put, happiness comes from many sources, not just from financial success. It is when we share with and serve those in need that we experience our truest joy at a much deeper and fulfilling level. Live Life in Crescendo teaches us how to achieve a life of purpose, meaning and contribution, by giving much, with full purpose of heart, for the greater good. Thank you, Stephen and Cynthia, for living life in crescendo, and for this beautiful, inspiring, and important work."
—Professor Muhammad Yunus, Nobel Peace Prize Laureate 2006, Founder Grameen Bank

"In Live Life in Crescendo, Stephen Covey's final leadership book, completed by his daughter Cynthia, Covey proposes a paradigm shift around retirement, suggesting that although we may retire from a job or career, we don't ever have to retire from making meaningful contributions to those around us. With new insights and inspiring personal stories, the book helps us focus on leading a life of service with the same passion we brought to building successful careers."
—Arianna Huffington, Founder & CEO, Thrive

"Retiring is not an end, but truly a beginning. We have more time to build even stronger relationships and to contribute and give back to our greater community. This inspiring, beautiful book provides us with examples, stories and the wisdom needed to create lasting legacies that will live on far beyond our years. Thank you, Stephen and Cynthia, for Live Life in Crescendo, this wonderful book, which is a tribute to your father and his legacy."
—Indra Nooyi, Former CEO and chairman of the board of PepsiCo and New York Times bestselling author of My Life in Full

"I love Live Life in Crescendo. It will help all those looking to improve their lives and is filled with fun, wise and great stories. It was like having Dr. Covey with me once again. The 7 Habits of Highly Effective People was important to me as a young physician, but I found his new book, written with his daughter Cynthia, even more important, guiding us, no matter what our age, to go further than we ever thought possible."
—Daniel G. Amen, MD, CEO and founder Amen Clinics and author of You, Happier and The End of Mental Illness

"Whether you've enjoyed success, encountered adversity, or feel stagnation, our best times can still lie ahead. With Stephen Covey's signature wisdom and warmth, this delightfully hopeful book shows how life can truly keep getting better and better."
—Daniel H. Pink, #1 New York Times bestselling author of The Power of Regret, When, and Drive

"It's such a temptation to believe that we have done our best work. That we have peaked. That we are in decline. That our glory days are behind us. So, this book from Stephen Covey and Cynthia Covey Haller is a breath of fresh air. It inverts the situation entirely; and invites us to believe that our greatest contribution is always ahead of us. Indeed, this book being published at all, 10 years after Stephen's passing, illustrates the very premise of the book. Cynthia has captured the spirit of her father's work so faithfully and added her essential voice too. Reading this has been a huge blessing to me, and it will be to you as well. You'll never think of your life the same way again."
—Greg McKeown, New York Times bestselling author of Essentialism and Effortless

"Like most everyone in our generation, we have made the lovely transition from parenting to grand parenting, and our writing has shifted accordingly. Just when we were trying to come up with a book about the joy of the fourth quarter of life, we found that our old, dear friend Stephen had already written it, or most of it, before he died. His remarkable eldest daughter Cynthia, who had worked on it with him from the start, picked up the baton and finished it. The result is Living Life in Crescendo, and it is fabulous!"
—Richard and Linda Eyre, New York Times #1 bestselling authors of Teaching Your Children Values, Grand mothering, and Being a Proactive Grandfather

Stephen R. Covey's books have shaped my life and leadership. This book, based on his own mission statement, 'Live Life in Crescendo--Your Most Important Work is Always Ahead of You,' is an invitation to live life fully and engage at every intersection. For everyone who sees life as an opportunity for advancing growth and impact, this is a must read from one of the best. In it you will find proof that every person can make an incredible contribution with their life.
—Celeste Mergens, founder of the award-winning global nonprofit Days for Girls

"Cynthia Covey Haller builds on the work of the late, great Stephen Covey in this inspirational book. Live Life in Crescendo will give everyone who reads it inspiration and hope to live a life that is productive and meaningful, from beginning to end."
—Arthur C. Brooks, professor at Harvard Kennedy School and Harvard Business School, and #1 New York Times bestselling author

"Live Life in Crescendo is a great reminder that every single one of us has a story, experiences heartache and trauma, but ultimately, we have the power inside of us to rise up and move forward and not only survive what often feels the impossible but go on to be happy again. It is encouraging and lovingly written. I am honored to have my story included."
—Elizabeth Smart, New York Times bestselling author of My Story and Where There's Hope

"Cynthia Covey Haller, as her father's faithful translator, has so beautifully captured what it truly means to Live Life in Crescendo. I hear Dr. Covey's voice as I turn each page. This book inspires us all to seize every moment by living a life of purpose, service, love and contribution, while knowing that our most important work is always ahead of us."
—Muriel Summers, Former Principal of A.B. Combs Leadership Magnet Elementary, the first Leader in Me School in the world and the only magnet school to have been honored as the #1 Magnet School in America, twice

"Absolutely amazing! I am thrilled to see another Stephen Covey book in my leadership practice, I have used The 7 Habits of Highly Effective People, The Leader in Me, and The Eighth Habit. Now comes another absolute hit introducing the Crescendo Mentality. Thank you Stephen, and Cynthia for finishing this magnificent work! I will surely use it as I work with school superintendents to grow and improve their leadership skills and happiness."
—Dr. Curtis L. Jones, Ed. D. Superintendent, Dibb County School District, 2019 Superintendent of the Year