The Midwest Survival Guide: How We Talk, Love, Work, Drink, and Eat ... Everything with Ranch (Compact Disc)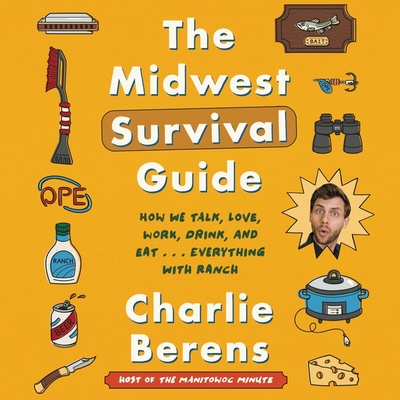 Description
---
From comedian and journalist Charlie Berens, creator of the viral comedic series The Manitowoc Minute--a hilarious full-color guide to Midwestern culture.
Someone once said, Love means never having to say you're sorry, but that guy was from Brooklyn. Midwesterners say sorry at least fifty different ways. They'll even interchange it with hello...and goodbye. Speaking of goodbyes, those can last for hours in the Midwest...sometimes days if you're not prepared.
That's where The Midwest Survival Guide comes in. It will keep some poor soul from missing their flight to Burbank because an epic Midwest goodbye turned into an impromptu trip to deer camp. But this audiobook is just as much for Midwest natives as it is for outsiders. There are 12 states to cover, and each one comes with its own unique quirks, culture, and truck stops. Could you imagine living in the Midwest your entire life and not know the proper order of ope, geez, and sorry? That's like forgetting your date's name. At some point, it's no longer appropriate to ask.
Not to worry Charlie Berens is here to help. He's a comedian and Wisconsin native whose comedy tours have taken him all across the United States, but mostly across the Midwest. He's seen it all, and now it's his honor to guide you through:
Saying hello (not as easy as you think)
The long goodbye (even harder)
Dating and mating rituals. Yes, casserole is involved.
Recipes for your next church potluck
Tips for your next church bar crawl
What to do when (not if) you hit a deer
Truck stops, tourist traps, and significant cultural destinations
How to handle your Midwestern boss
The Midwest Survival Guide is a walleye-deep look into a distinctive, beautiful, and bizarre American culture, and the best gift you could give Midwesterners, or those aspiring to be...aside from rhubarb.