William Joyce
Author, Emmy & Oscar Winner
WILLIAM JOYCE
comes to Anderson's!

Wednesday, April 5th at 7:00 PM
Anderson's Bookshop Naperville

A true luminary and creative spirit, William Joyce has put his personal stamp in children's books. He's back at Anderson's to share his re-issued titles, Bently and Egg, Dinosaur Bob and His Adventures with the Family Lazardo and A Day With Wilbur Robinson.

On film and television, Joyce has made a name for himself as well. His Academy Award came thanks to his roles as writer, producer and director of Fantastic Flying Books. He won three Emmy Awards for the Rolie Polie Olie TV series. He was the executive producer and writer of Epic, Rise of the Guardians, and Meet the Robinsons. Additionally, he won praise for his concept art for Toy Story and A Bug's Life.

The event will also include a viewing of the Academy Award winning Best Animated Short, The Fantastic Flying Books of Mr. Morris Lessmore!

The Fantastic Flying Books of Mr Morris Lessmore Trailer from Moonbot Studios on Vimeo.

EVENT DETAILS
This in-store event is free and open to the public. To join the signing line, please purchase one of the author's books mentioned above from Anderson's. To purchase your book, please stop into or call the Anderson's Naperville location at (630) 355-2665 or order here.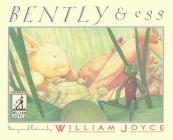 $17.99
Call for price
ISBN: 9781481489492
Published: Atheneum Books for Young Readers - April 4th, 2017
---